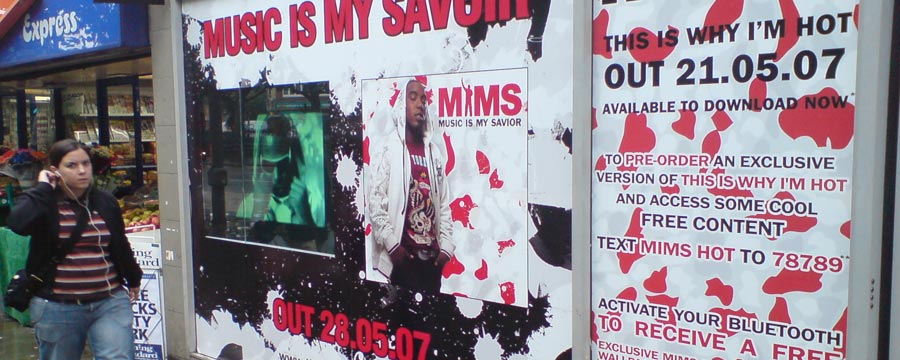 Mims album launch for EMI Records
A former bank in West12 Shopping Centre, Shepherds Bush Road, Hammersmith, has been given a new lease of life and has been transformed using Motomedia's StreetlevelBillboardsTM concept for EMI Record's launch campaign for American R&B hiphop star Mims and the launch of his new album 'Music is my Saviour'

The technology used delivers very high quality audio, comparable to a CD. Combined with a powerful in store projector, videos are seen and heard coming directly from the plate glass shop front window. When shoppers stop to hear a track from the rapper's album, they are automatically offered a free Bluetooth message via their mobile phones offering them an exclusive download.

With over 200,000 people using the West12 Shopping Centre each week and with over 1300 Bluetooth downloads of the exclusive wallpaper, Motomedia's StreetlevelBillboardsTM has proved to be ideal at getting across a client's message.


'We feel the Motomedia concept is the perfect platform to launch music. We are particularly pleased that the first company to adopt this technology is EMI Records, one of the world's largest music companies with some exciting artists on their books.'
kenny maclean, managing director, motomedia