Motomedia- you do not currently have Adobe Flash Player 8 installed. You need Flash Player 8 to view this content. You can download Flash Player 8
here
.
large format advertising, poster advertising, multimedia, digital signage, new advertising method, guerilla marketing city centre advertising
Welcome to Motomedia
Latest
Know Your Limits!...more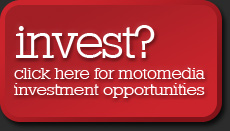 Motomedia fuses design, digital media and Bluetooth to create a powerful marketing format that uses the windows of vacant retail units as an advertising platform.

In today's high streets and shopping complexes, empty retail units can look tired and depressing. Motomedia generates income for landlords, acting agents and local authorites by providing advertisers a unique opportunity to place large-format advertising in high-profile locations on a short term basis.

With a talented team of media and retail professionals driven to achieve 'best in class', the goal of Motomedia is delivering outstanding results for our clients.